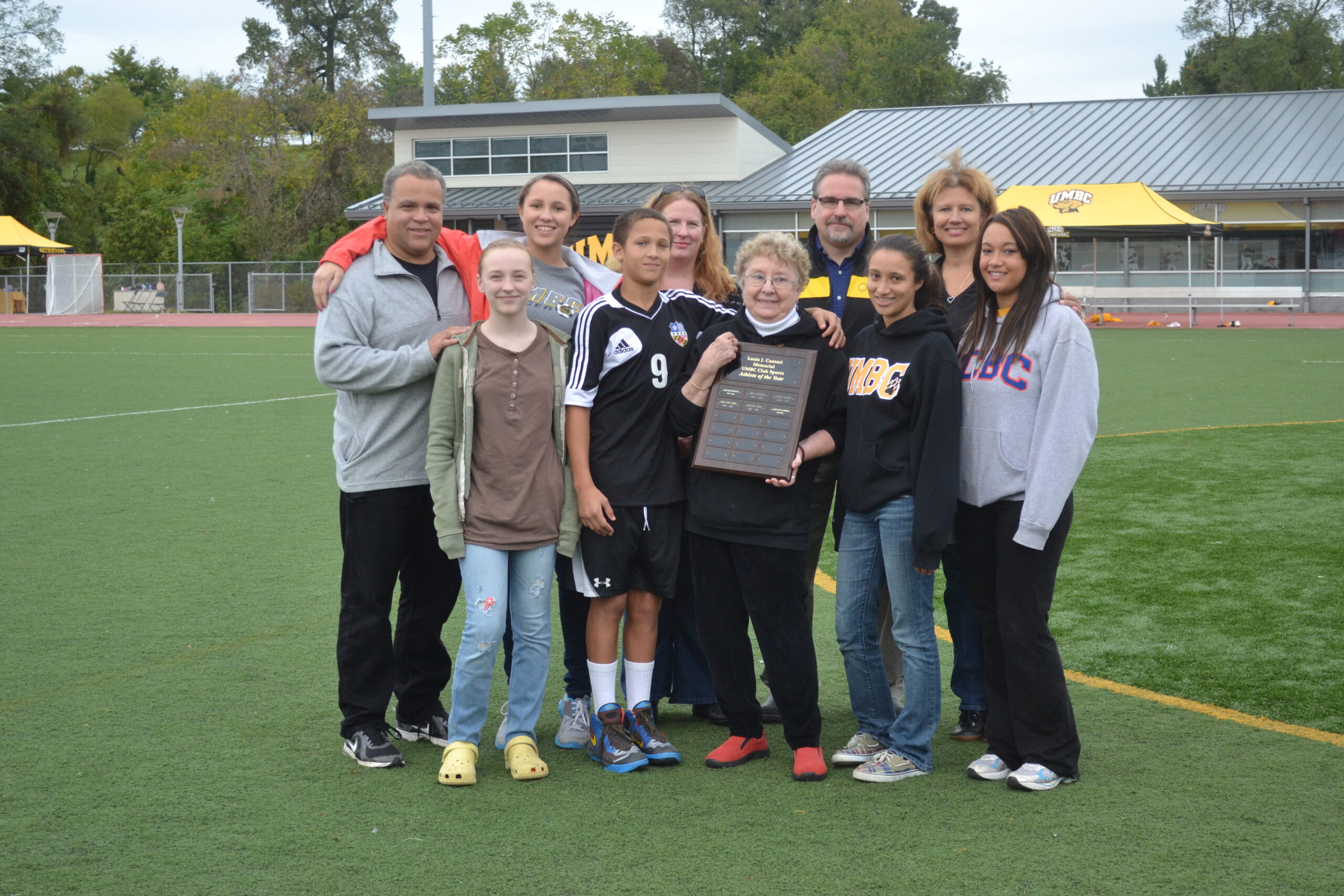 The Louis J. Cantori Club Sports Award is presented annually to a Club Sports student-athlete who participates in club sports and is an outstanding scholar-athlete. This student may not be the leading scorer on the team, but shows the most spirit and passion for their craft. They are the unsung heroes, the ones who will do anything for their teammates and who exhibit leadership qualities on the field and in the classroom.
Louis J. Cantori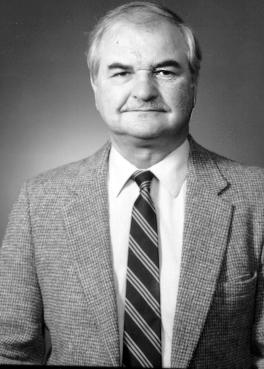 Lou joined UMBC's Department of Political Science in 1972 and served as Chair from 1979 to 1985.  He was an internationally recognized expert on Middle East politics and policy, and over the course of his career, he lived in the region for a cumulative total of seven years.  Lou was the author, co-author, or editor of four books and over 40 articles on the Middle East and other subjects. His Op-Eds and commentary appeared on NPR, C-SPAN, and Salon.com, and in USA Today, The Baltimore Sun, and other media outlets.
Lou was a Sergeant of the U.S. Marine Corps from 1951-55, an affiliation in which he took great pride.  He was a Distinguished Visiting Lecturer on the Middle East at the U.S. State Department and Adjunct Professor at Marine Corps University in Quantico, Virginia.  Lou also taught at West Point, the U.S. Air Force Academy, and the U.S. Marine Corps University.  He founded or was heavily involved with various Middle East policy groups, including The American Council for the Study of Islamic Societies and The Center for the Study of Islam and Democracy.
Lou received his Ph.D. and M.A. in Political Science from the University of Chicago, and his B.A. in Political Science from the University of Massachusetts, Amherst.  He studied Islamic philosophy at Al-Azhar University in Cairo, Egypt.
Lou received UMBC's annual teaching award in political science for the academic years 1979-80 and 1981-82.  He spearheaded some of the department's most successful initiatives.  Under his chairmanship, UMBC became part of a select number of colleges and universities that annually send delegates to the annual Student Conference on United States Affairs (SCUSA) at the United States Military Academy at West Point.  Lou also conducted the Department's first study-abroad course, to Egypt in 1984.
He also served as faculty advisor to the UMBC Crew team with gusto.  He thought these scholar-athletes epitomized the exceptionalism of UMBC.  After his retirement in 2005, in addition to his ongoing service to the UMBC Crew team, Lou continued to write and present papers internationally.
Lou and Joan were married for 54 years.  They have two sons Greg and Eric, a daughter, Nadia, and numerous grandchildren.  The Cantori family tree includes seven UMBC alumni:
Son, Greg Cantori '83, geography.
Son, Eric Cantori '86, computer science, his wife Laura '83, modern languages and linguistics, and daughter, Miranda '14, political science.
Daughter, Nadia Cantori Ward is married to Dr. Francisco Ward '87, psychology. Their daughters, Leila '13, environmental studies, and Maxi '20, English. Leila was a member of the rec crew team during her time at UMBC.  The entire family loves soccer.
Professor Emeritus of Political Science, Lou passed away on Monday, May 12, 2008.  Provost Arthur T. Johnson said, "Lou will be remembered fondly for his gregariousness and kindness; his love of scholarly discussion and debate and his contributions to the field of comparative politics; and for his support of UMBC and its students, especially members of the UMBC crew."
---
Recipients by Year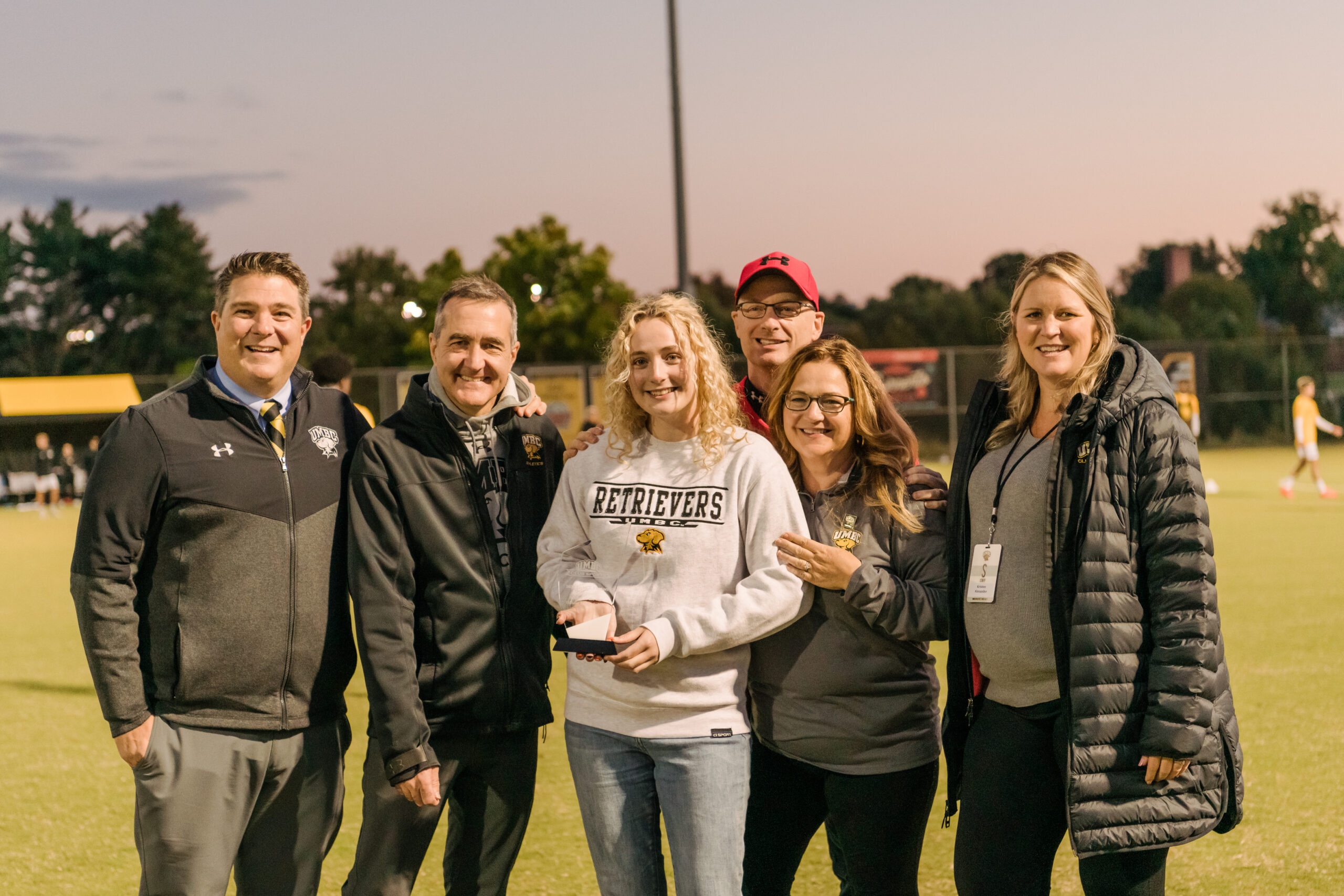 2022 – Hunter Sugg (Sailing)
Hunter joined the sailing team in her freshman year in 2019, became the vice president of the club in 21-22, and is the President of the club this year. She had no prior experience with sailing but fell in love with the sport and has enjoyed being a part of the team.
Hunter has been an integral part of keeping the club running smoothly as we transitioned out of Covid, and without her passion and drive for the sport the club would not be where it is today. She is a Graphic Design major with a minor in entrepreneurship and a certificate in user web and mobile development.
Hunter will be missed next year, but we wish her all the best in her future endeavors.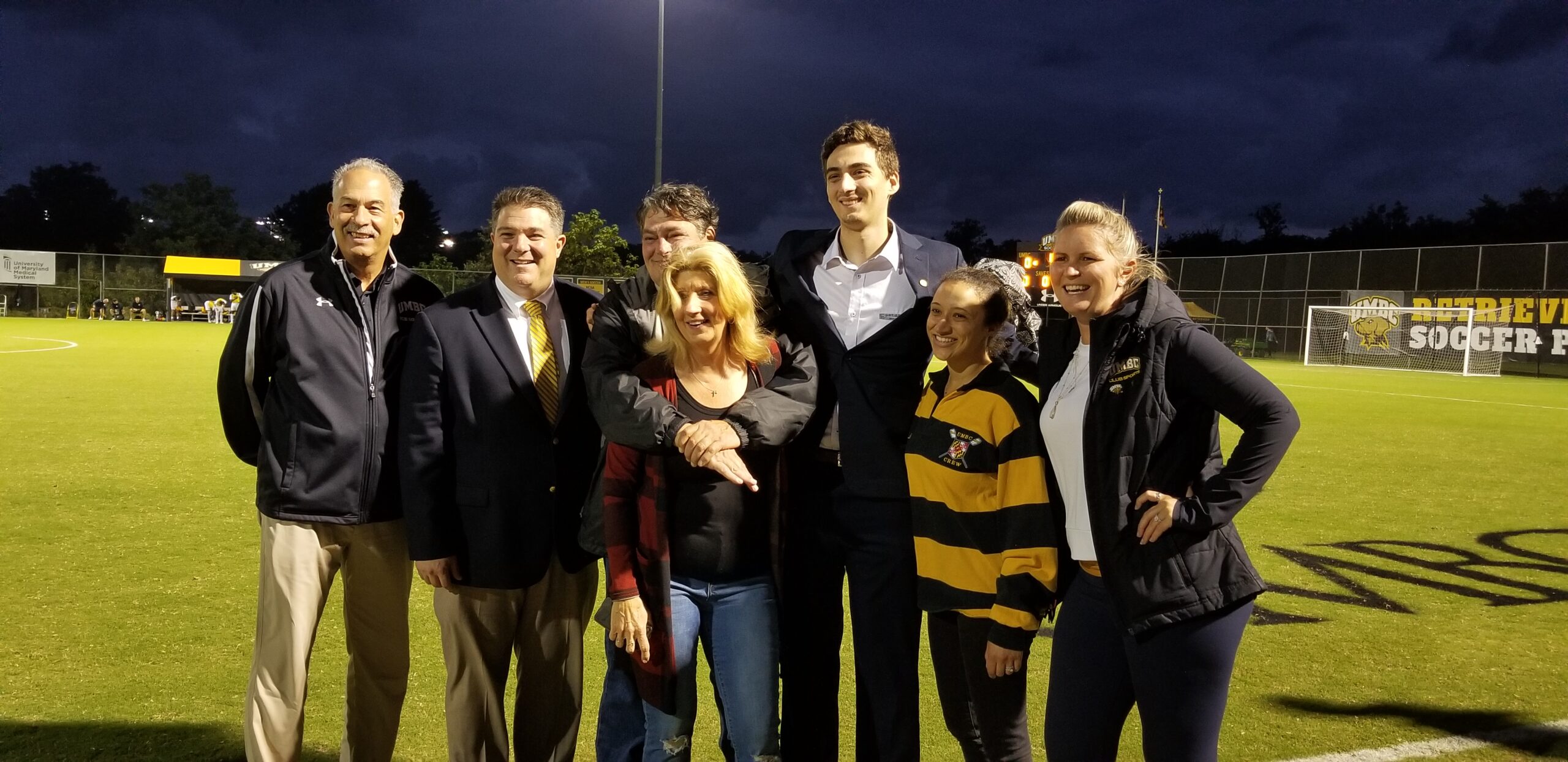 2021 – Sean Brown (Ice Hockey)
Sean graduated in 2020 from UMBC with a B.S. in Biological Sciences with a GPA of 3.4.
With a current GPA of 3.99, Sean is seeking a Ph.D. from UMBC in Biological Sciences in Evolution Ecology, with research interests in astrobiology and the origins of life. In hopes of studying astrobiology at NASA or another research institute. In his free time, he is an avid backpacker and hiker and is a member of the Feeding America Philanthropy.
Sean is originally from Buffalo, NY, and was recruited to come to UMBC to play for the Club Ice Hockey team. Sean has been a member of the team for the last 5 years and captained the team for the last 3 years. Sean was named the Mid-Atlantic Collegiate Hockey MVP in 2017 and was named to the Collegiate Hockey Federation All-Star team in 2020. He currently holds the record for most saves in a single game of 150.
Sean has been a great asset to the UMBC Ice Hockey team and the Club Sports Program overall.
2019 – Manuel "Manny" Miranda (Men's Ultimate Frisbee)
Manuel "Manny" Miranda is currently a junior majoring in physics in addition to pursuing a certificate in education here at UMBC. During his time here at UMBC, Manny has been an integral part of the university's Men's Ultimate Frisbee club team, elevating the club through his efforts both on and off the field. Manny attributes much of his hard work to Ultimate Frisbee saying, "Ultimate Frisbee has become an integral part of my life. I enjoy the spirit, the competition, and the community. Everything I have done to get to this point in my ultimate career has brought me back to this club sports program. I feel honored to be a part of it and to lift our club's success with my contributions as an athlete, but more importantly, as an individual."
Manny started his collegiate club Ultimate Frisbee career on UMBC's B-team, Tembo, and was almost immediately pulled up to the A-team, Booya, in the following months. His passion for the club and sport led to his presidency in his second year of joining the club, earning the Club Sports Officer of the Year (2018) award for his contributions to his club and the program as a whole, along the way. This year, although Manny has stepped down from his administrative roles as President of the club, he still remains one of the captains of the team, showing his leadership in other roles.
Manny is also a high achiever in the classroom and a strong member of the community: he has been a part of some prestigious educational groups including the Sherman STEM Scholars Program, as well as having a fellowship and educational partnership with the National Oceanic and Atmospheric Association (NOAA). He has also taken part in being a Restorative Practice Trainer on campus and has helped support other sports clubs throughout his time at UMBC.
We look forward to seeing Manny's continued leadership on the field and in the classroom throughout his Retriever career!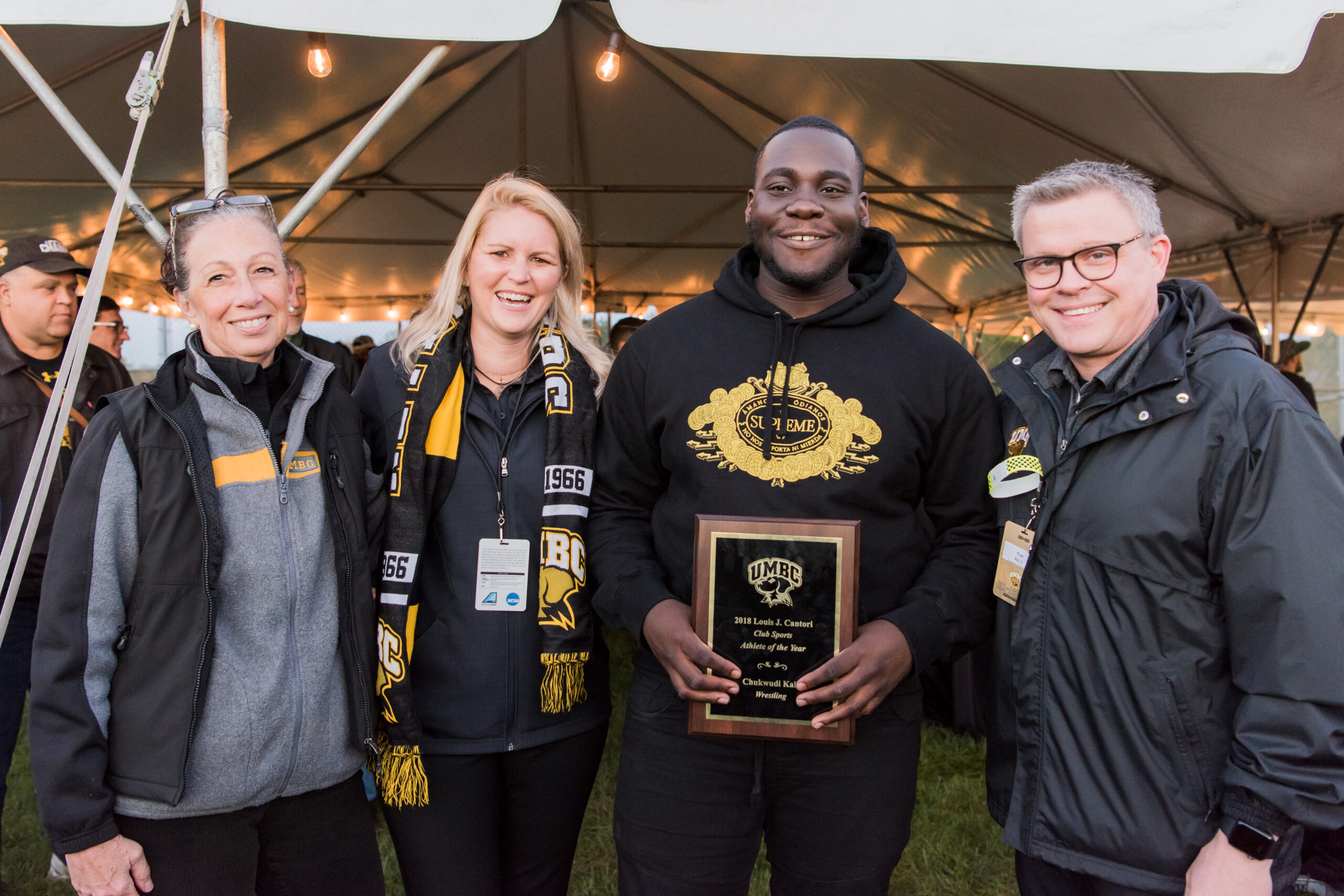 2018 – Chukwudi "Chuck" Kalu (Wrestling)
Chuck is a sophomore majoring in biological sciences at UMBC.
He had the most impressive season at heavyweight in the 15-year history of the UMBC Wrestling program, and he did it as a freshman. Chuck set the heavyweight single-season record for wins and win percentage at 29-11, and he was the school's first all-American in the heavyweight class, earning 7th place at the NCWA Nationals in Allen, Texas.
Chuck is a high achiever in the classroom, earning a 4.0 GPA last year and Academic All-American honors as well. A biology major who was a two-time Maryland high school state place winner for nearby western tech, we look forward to seeing Chuk's continued leadership on the mat and in the classroom throughout his retriever career!
Chuck will be accompanied by some of his fellow teammates at the event.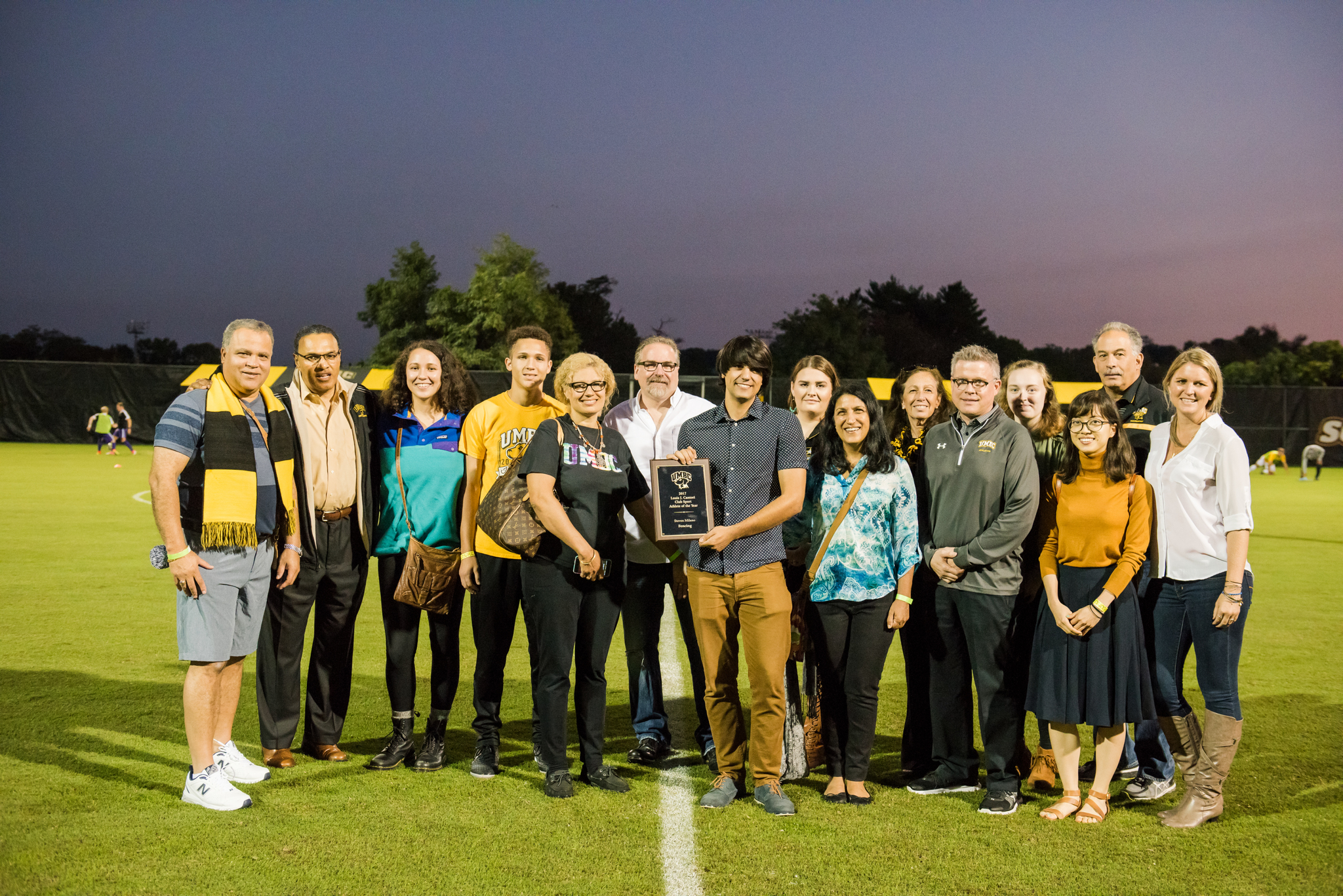 2017 – Steven Milano (Fencing)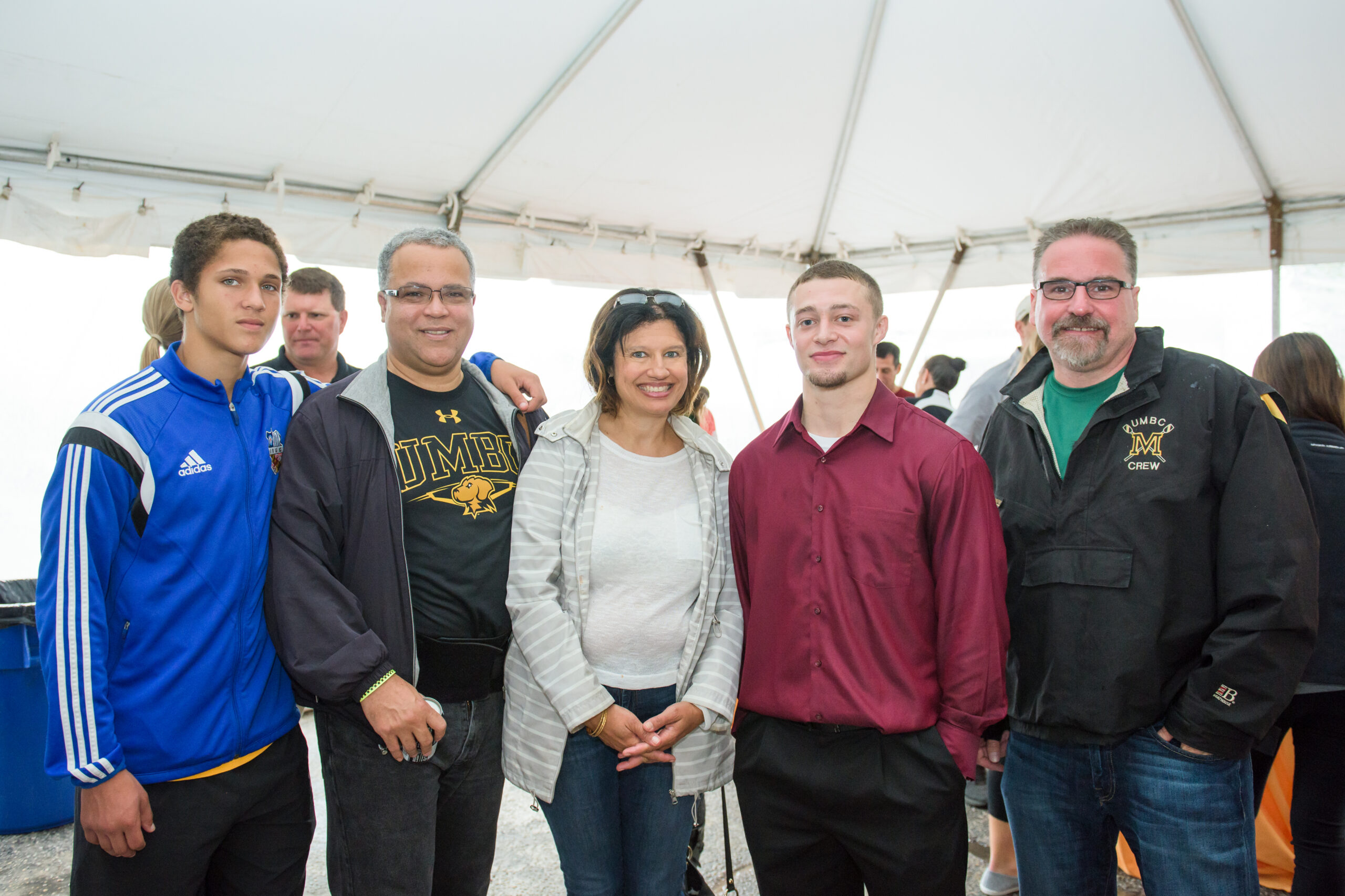 2016 – Ryan Atkinson (Ice Hockey)



2015 – Juliette Sardin (Women's Volleyball)



2014 – Tina Nassehi (Sailing)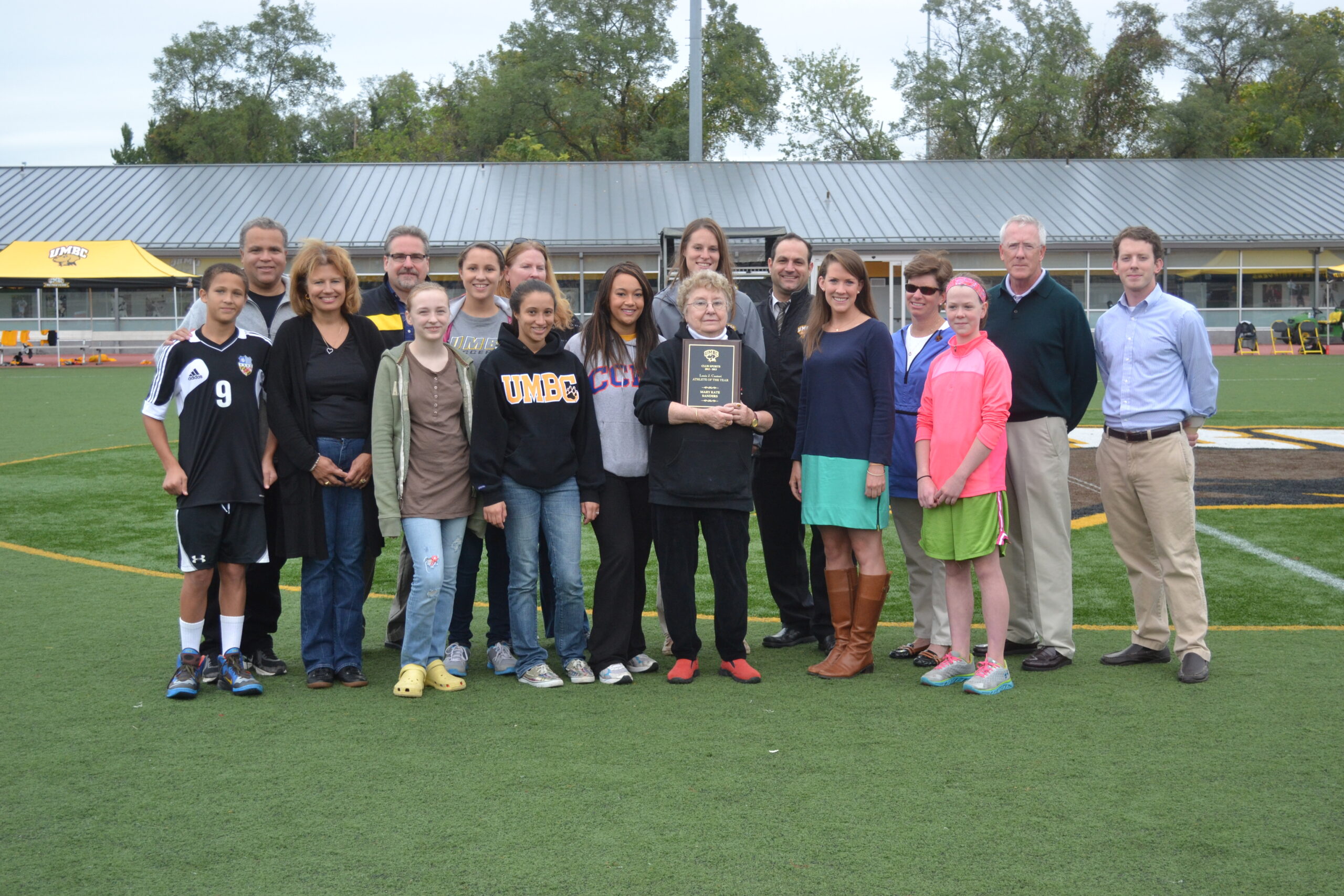 2013 – Mary Kate Sanders (Women's Lacrosse)


2012 – Matt Velky (Men's Soccer)
Matt is a senior Mechanical Engineer major with a 3.25 GPA. He has been President of the Men's Club Soccer Team since his sophomore year and has captained the Elite 'A' side team for three years now.
In addition, Matt is also the Vice President of the Sports Club Council, the unifying body of all UMBC Club Sports, and the over 700 club sport student-athletes here at UMBC.
This summer, Matt, along with Coach Anthony Adams and their die-hard supporters, founded 'Lot 17′, the official supporters' club for your Men's Varsity Soccer Team.  The 'Lot' is mainly comprised of present and former Club Soccer members and has helped keep attendance at a record high here at the Retriever Soccer Park this year.
Aside from Matt's on-field accomplishments, Matt is an Undergraduate Teaching Assistant for the Mechanical Engineering department for Statics, as well as a staff member at The Commons on campus.


2011 – Micaela Perez Ferreron (Women's Volleyball)
Micaela Perez Ferreron is a senior, majoring in political sciences with a 4.0-grade point average.  Micaela is an all-star volleyball player,  captain of the women's club volleyball team, a great leader, and a member of the honors college.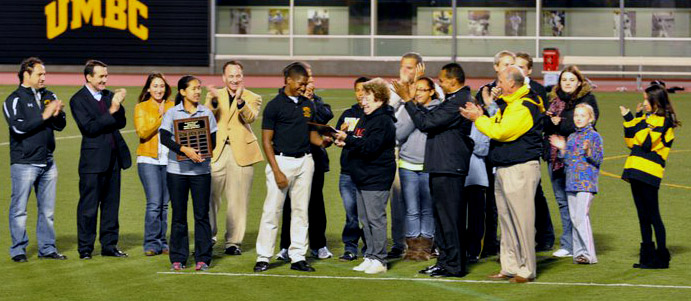 2010 – Caleb Gilmer (Men's Rugby)


2009 – Drew Harcharik (Ice Hockey)


2008 – Alex Broadwater (Wrestling)
Alex Broadwater (149 pounds) won the National Collegiate Wrestling Association tournament in Lakeland, Florida, becoming the first wrestler from the University of Maryland, Baltimore County to win a national championship.
Broadwater, a graduate of nearby Catonsville High School where he was a Baltimore County champion and a state place-winner, scored a 7-5 overtime victory over Clay Goodloe of Newman University in Kansas for the championship.
A junior when he accomplished this feat and defending NCWA All-American, Broadwater went 5-0 at the three-day event, scoring two decisions and two pins before his finals bout. The wins improved his record to 23-4 on the season.
With the title, Broadwater joined Steve Kessler, Derrick Asbell, and JJ Holmes as college national champions produced out of the Owings Mills Junior League program coached by hall-of-famer Guy Pritzker.
The NCWA national tournament is growing quickly in strength and prestige with approximately 150 teams from across the country hoping to produce individual national champs. This year, for example, an NAIA collegiate national champion placed seventh at the NCWA nationals.