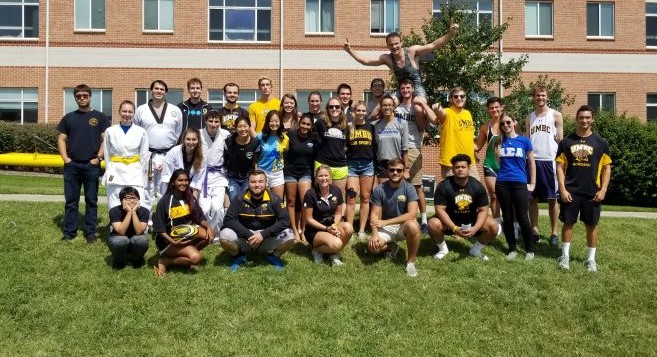 What are Club Sports?
Club Sports are an exciting option for students who want to learn a new sport or continue to test themselves in a competitive environment. Participation in the UMBC Club Sports program is open to all UMBC students. Clubs encourage new members, including those with little or no experience. Joining a Club Sport is a great way to refine skills. Members will not only get to engage other students but also interact with experienced staff and coaches in settings far removed from the classroom.
The objective of the Club Sports program is the development of successful and quality teams, which focus on enhancing the college experience through teamwork, leadership, sportsmanship, and diversity while supporting a healthy lifestyle.
Building Leaders
UMBC Club Sports does more than provide recreational and competitive activities. Students are active participants in the management of their programs as well. From scheduling and creating by-laws, to managing finances, students take on major leadership roles in making the UMBC Club Sports program successful while working closely with university officials, faculty, and the recreation staff. The Club Sports Council, comprised of representatives from each club sport, provides additional opportunities to develop leadership skills. Recently, members of club teams have been actively involved in local community service, UMBC Green Dot, and fundraising for charitable organizations.
Competition 
While some Club Sports practice informally once or twice a week, others seek to compete at the regional or national level. Certified instructors and coaches work with these clubs to hone skills and build competitive teams. Through competition, participants will meet students from a wide range of colleges and universities while challenging their abilities. UMBC's ice hockey club regularly plays teams from Penn State, Virginia Tech, Delaware, and Georgetown. The women's rugby club has competed against Penn State and the United States Naval Academy.
Participation in Club Sports may also provide opportunities for travel. The UMBC crew club has competed in regattas from the Head of the Charles in Boston to Dad's Vail in Philadelphia. The UMBC sailing club races in events ranging from King's Point in New York to Charleston Harbor. In spring, the men's and women's volleyball clubs compete in the national tournament in locations like Reno, Nevada, and Dallas, Texas, and the UMBC's wrestling club has hit the mats to compete in National Collegiate Wrestling Association Tournament.
Contact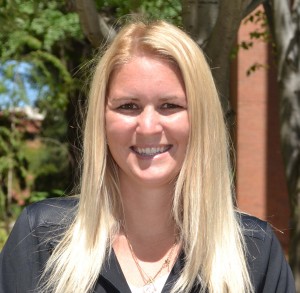 Kristen Alexander – Assistant Director of Club Sports
Location: Retriever Activities Center, Room 252A
Phone: 410-455-2205
Fax: 410-455-1536
Mailing Address:
UMBC Athletics
1000 Hilltop Circle
Baltimore, MD 21250

In The News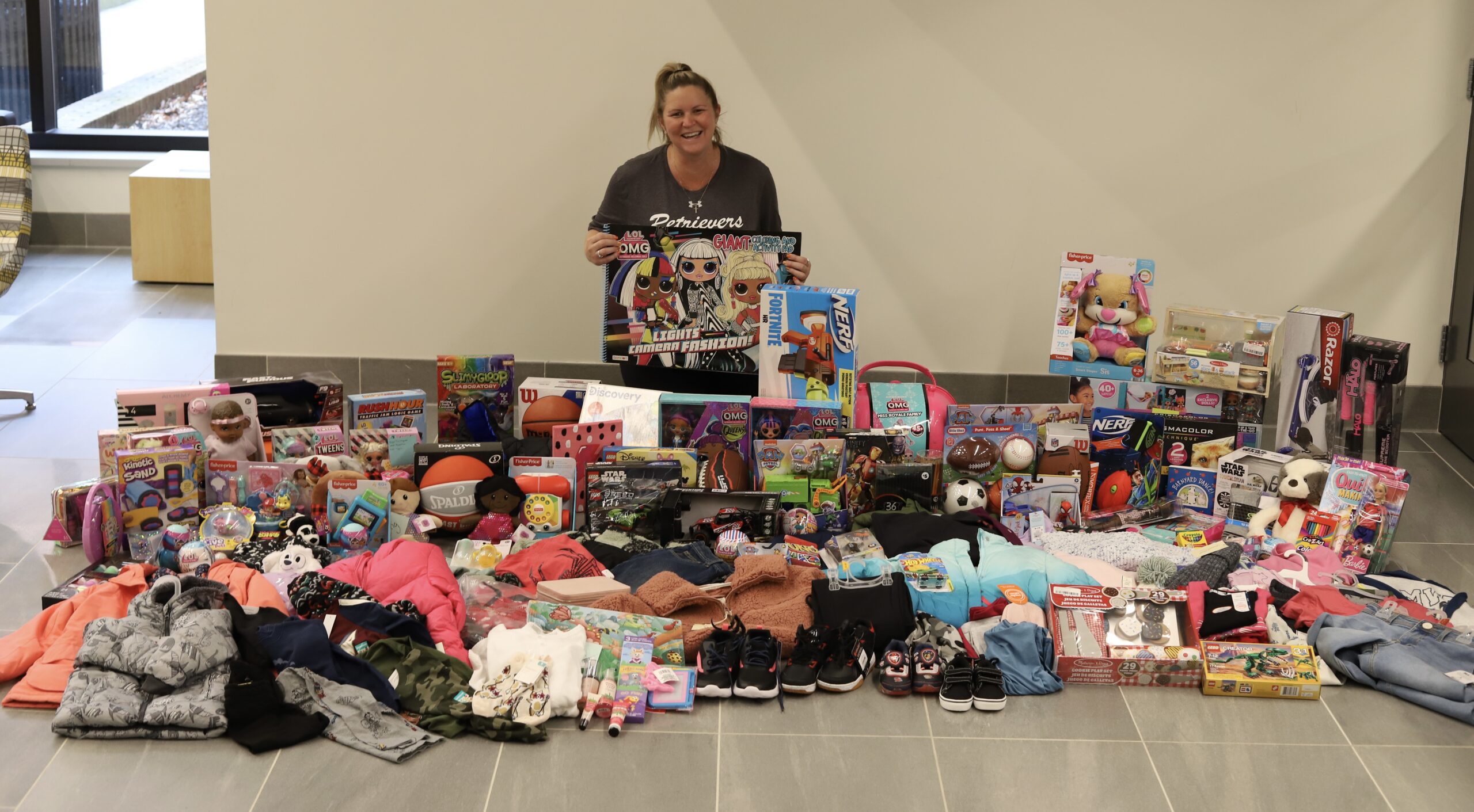 UMBC Partners with Salvation Army's Angel Tree Program
Baltimore, MD., December 1, 2022
UMBC Club Sports, Recreation, and Athletics partnered with the Salvation Army "Angel Tree Program" to provide 24 Baltimore County Angels (children) with gifts for the Holiday season.
Our students and staff raised over $2,000 in toys, clothes, and other gifts for local families in need!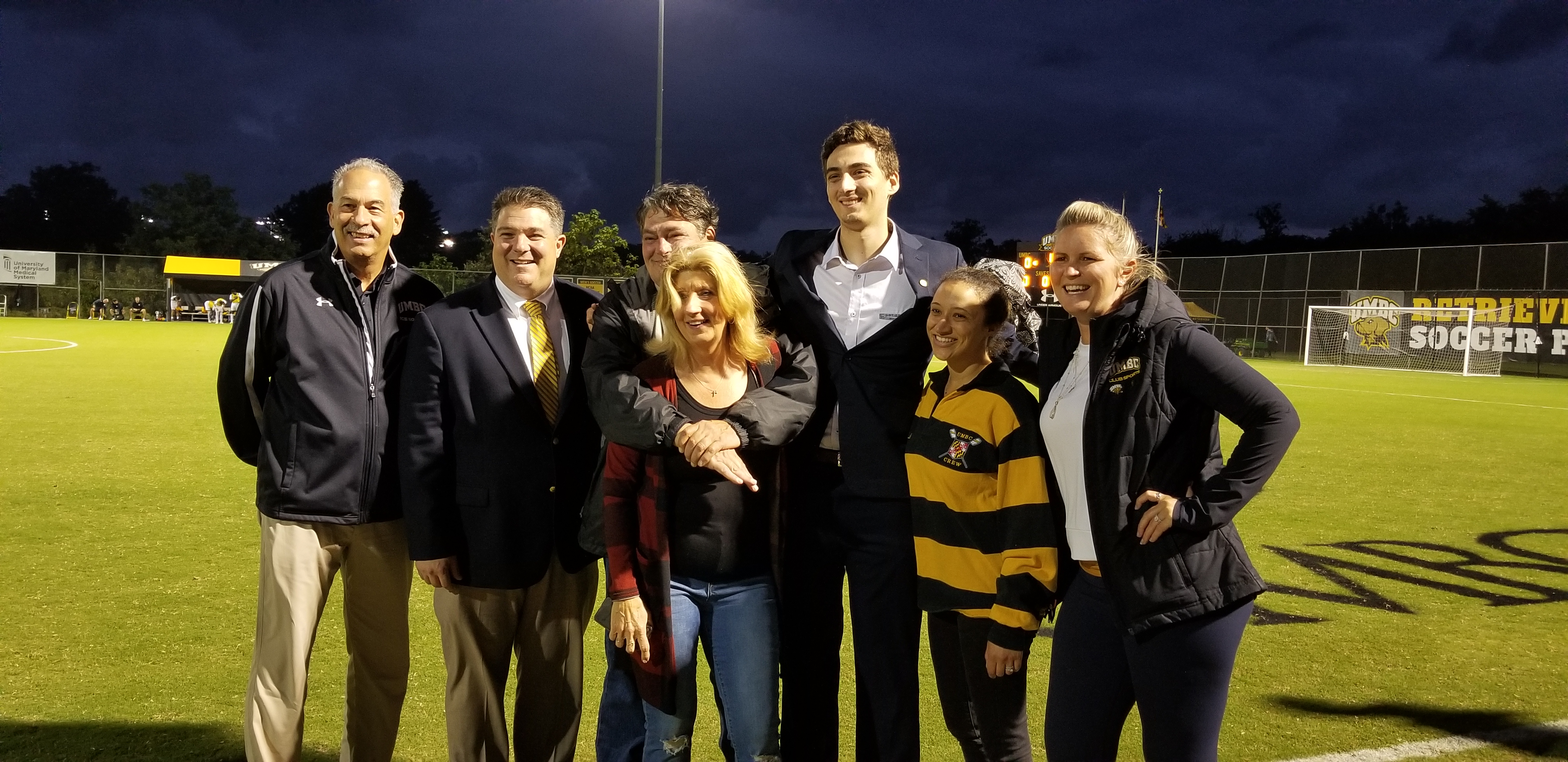 Sean Brown Named 2021 Louis J. Cantori Club Sports Athlete of the Year
Baltimore, Md., October 14, 2021
For the past 13 years, the Cantori Family has been invited back to campus for the Louis J. Cantori Club Sports Athlete of the Year Award, an award presented annually to a student who participates in club sports and is an outstanding scholar-athlete. This award is presented annually during the Men's Soccer Homecoming game.
Sean graduated in 2020 from UMBC with a B.S. in Biological Sciences. With a current GPA of 3.99, Sean is seeking a Ph.D. from UMBC in Biological Sciences in the Evolution Ecology, with research interests in astrobiology and the origins of life. In his free time, he is an avid backpacker and hiker and is a member of the Feeding America Philanthropy.
Sean is originally from Buffalo, NY, and was recruited to come to UMBC to play for the Club Ice Hockey team. Sean has been a member of the team for the last 5 years and captained the team for the last 3 years. The goalkeeper was named the Mid-Atlantic Collegiate Hockey MVP in 2017 and was named to the Collegiate Hockey Federation All-Star team in 2020.
Sean has been a great asset to the UMBC Ice Hockey team and the Club Sports Program overall.
We look forward to seeing Sean's continued leadership on the ice, in the classroom throughout his Retriever career!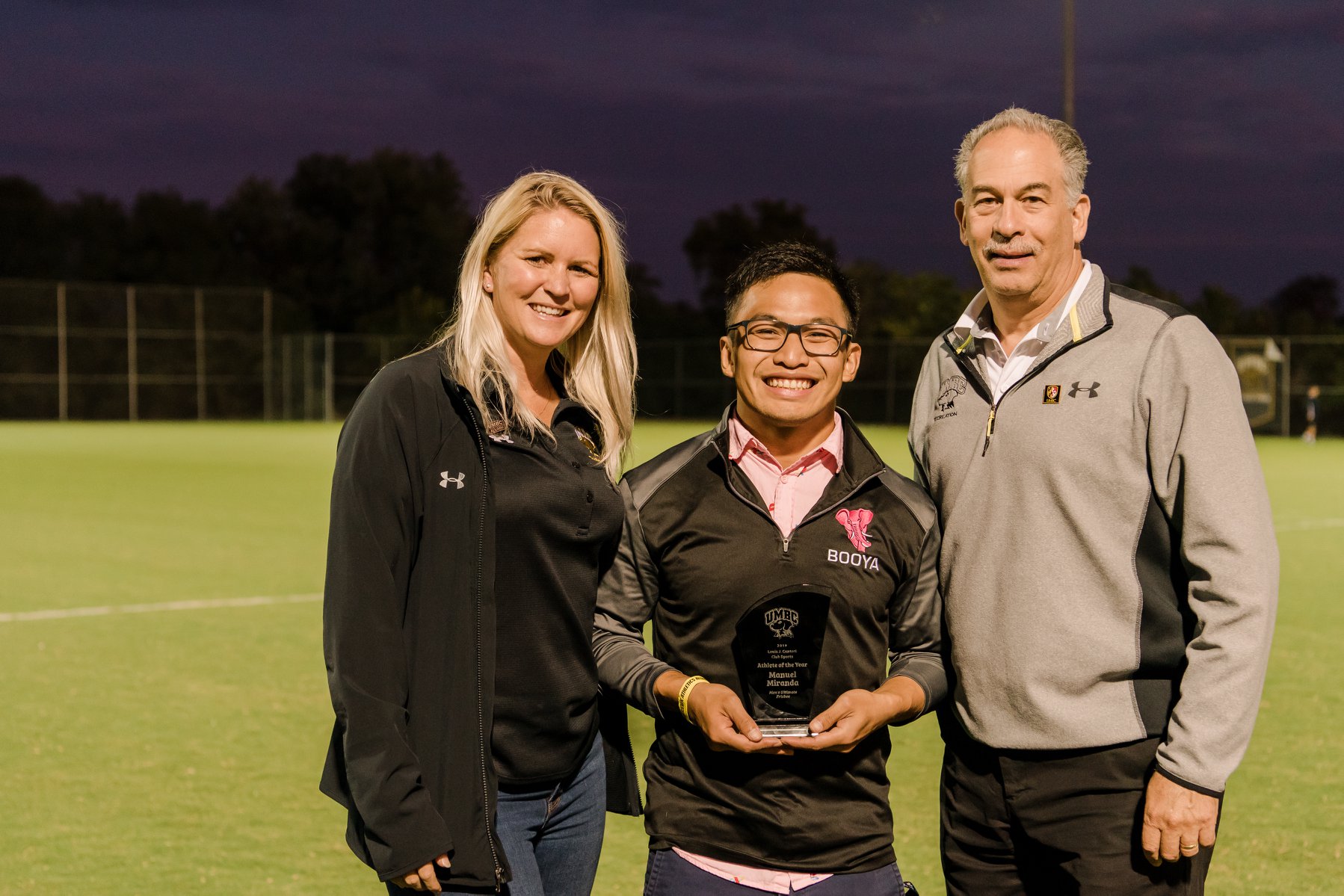 Manuel "Manny" Miranda Named 2019 Louis J. Cantori Club Sports Athlete of the Year
Baltimore, Md., October 17th, 2019
For the past 12 years, the Cantori Family has been invited back to campus for the Louis J. Cantori Club Sports Athlete of the Year Award, an award presented annually to a student who participates in club sports and is an outstanding scholar-athlete. This award is presented annually during the Men's Soccer Homecoming game.
Manuel "Manny" Miranda is currently a junior majoring in physics in addition to pursuing a certificate in education here at UMBC. During his time here at UMBC, Manny has been an integral part of the university's Men's Ultimate Frisbee club team, elevating the club through his efforts both on and off the field. Manny attributes much of his hard work to Ultimate Frisbee saying, "Ultimate Frisbee has become an integral part of my life. I enjoy the spirit, the competition, and the community. Everything I have done to get to this point in my ultimate career has brought me back to this club sports program. I feel honored to be a part of it and to lift our club's success with my contributions as an athlete, but more importantly, as an individual."
Manny started his collegiate club Ultimate Frisbee career on UMBC's B-team, Tembo, and was almost immediately pulled up to the A-team, Booya, in the following months. His passion for the club and sport led to his presidency in his second year of joining the club, earning the Club Sports Officer of the Year (2018) award for his contributions to his club and the program as a whole, along the way. This year, although Manny has stepped down from his administrative roles as President of the club, he still remains as one of the captains of the team, showing his leadership in other roles.
Manny is also a high achiever in the classroom and a strong member of the community: he has been a part of some prestigious educational groups including the Sherman STEM Scholars Program, as well as having a fellowship and educational partnership with the National Oceanic and Atmospheric Association (NOAA). He has also taken part in being a Restorative Practice Trainer on campus and has helped support other sports clubs throughout his time at UMBC.
We look forward to seeing Manny's continued leadership on the field and in the classroom throughout his Retriever career!

UMBC Club Men's Soccer Team Excelled at International Gorges Classic Tournament With a Top-4 Finish
Baltimore, MD., July 24, 2019 
This past May (2019), UMBC Men's Club Soccer team competed in the International Gorges Classic Soccer Tournament in Niagara Falls, NY. The UMBC Men's Soccer Club team competed against 15 other travel teams from the New York Region and Canada. The winner of the tournament received a cash prize to assist in the growth of their soccer club.
Our Men's Club soccer team led by our President (David Choi) and Vice-President/Treasurer (Phil Lottermoser) organized and heavily contributed to the success of the trip.
UMBC Men's Soccer Club competed against Toronto Gunners in the tournament's quarterfinal. Due to the equally competitive nature of both teams, the first half ended in a tie, with neither of the teams scoring through halftime. UMBC came into the second half with a high press, trying to pin the Toronto Gunners back and win possession high up the field. UMBC was able to mount more pressure on the opposition and was able to get their first goal led by team captain, Ude Ezekwem. Ude was able to beat his marker to a loose ball and kept his composure to slot the ball away in the bottom right corner. Ude's goal came at a crucial time and led to an increase in momentum for UMBC. UMBC was able to score another goal from team veteran and center-back, Eric Gonzalez. Eric was able to win the ball at the top of the penalty box off a UMBC corner kick and had a clean first touch that allowed him a shot that the keeper could not save. This was a major win for UMBC club soccer, on a big stage to be able to make it to the semi-finals of an international tournament.
The growth of the program in the last 3 years has been exponential. UMBC Men's club soccer has continued to grow and challenge itself with every season. The growth is present with the quality of players and the executive board that supports the team's growth. With the upcoming season starting in Fall 2019, the team believes in their ability to win Regionals and make a run for the national title.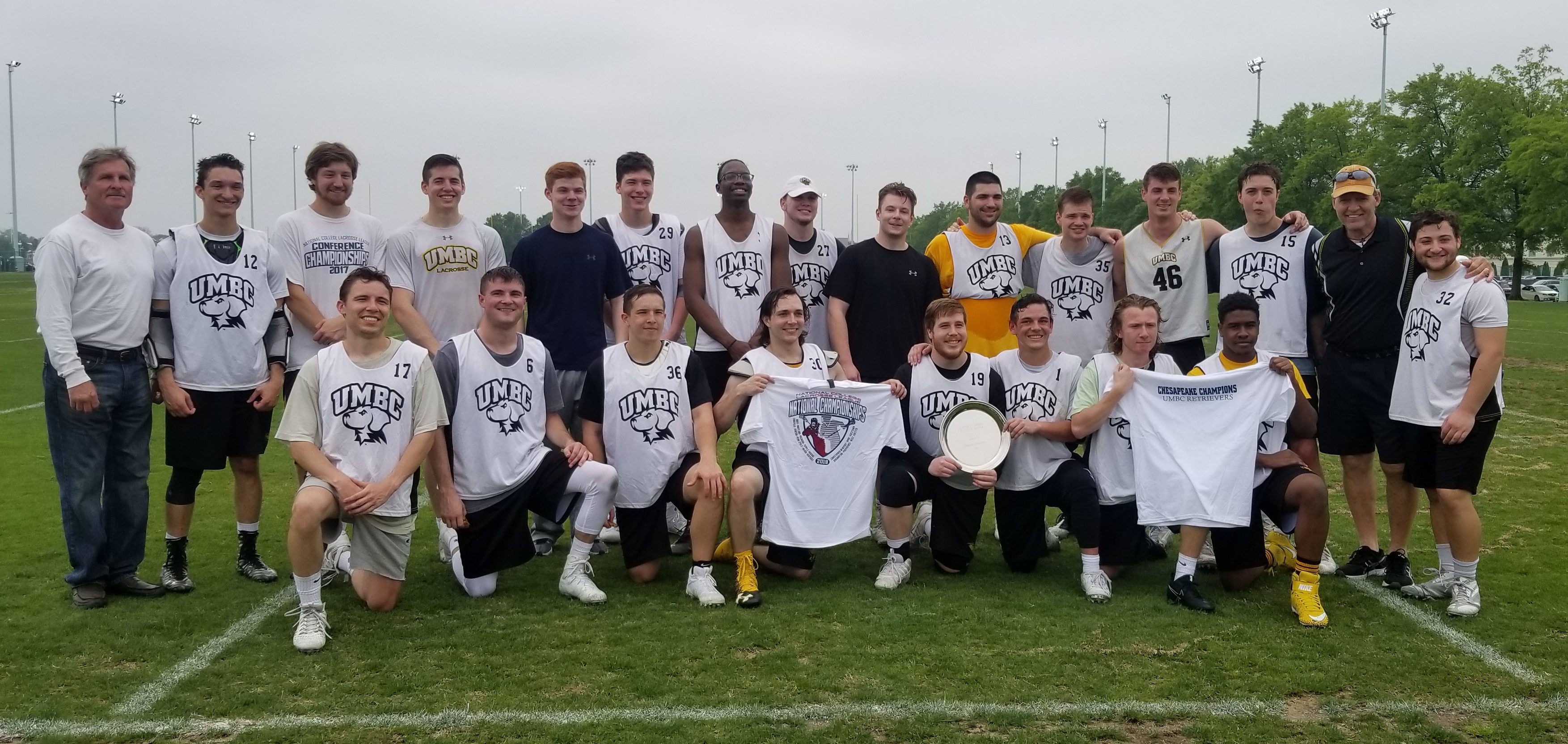 UMBC Club Men's Lacrosse Team Makes National Championships after Excelling at Regionals
Baltimore, MD., May 6, 2019 
This past April, UMBC Men's Club Lacrosse competed against the other top 4 teams in the DII Chesapeake Conference at their annual 2019 NCLL Regional Championship, which took place at Calverton School, MD, for an opportunity to compete for the DII NCLL National Championship in the first week of May.
Our Men's Club Lacrosse team, led by Senior Brian Spiegel (President) had a very strong showing at the Regional Championship, despite bringing a total of 14 players – less than most of our competition this whole year.
UMBC's first game was played against the Georgetown Hoyas, in which the Hoyas were able to hang in the game for the first 3 quarters until Sophomore Nathan Chen (Midfield) helped UMBC breakthrough to a 12-8 win with some hustle and sharpshooting.
UMBC met the George Mason Patriots in the finals of the Regional Championship, where they took an early lead in the first half due to some solid defending by Senior Blake Hipsley (Net-Minder) and an outstanding effort by Junior Jake Brothers (Midfield), who provided the team with a few key goals and assists while winning over 90% of his face-offs. Although George Mason's offense started to pour in a few goals to catch up, Senior Devin Shields (Vice-President / Attack) led the counter-attack late in the second half, netting 3 total goals on the day, to clinch UMBC's victory in the 2019 NCLL Regional Championship, with a 12-9 win.
UMBC competed at the 2019 DII NCLL National Championship this past weekend against the #1 seeded team, the Providence Friars, and played an extremely hard-fought game, leveling the score to 11-11 going into the last quarter, almost advancing to the Final Four. Brothers shined with another 95%+ face-off win rate and 3 goals on the day, while net-minders Blake Hipsley and Freshman Jacob Troy dealt with 35 shots in total, racking up a 50%+ save percentage. UMBC's other scorers included Devin Shields, Senior Brad Armstrong, and Senior Nick Emelio. UMBC ended that match 11-18 falling to Providence, who ended up going on to win the National Championship.
UMBC Equestrian Excels at Regional Competition, Sends First Rider to Zones Competition in Club History
Baltimore, MD., April 2, 2019 
This past spring break, UMBC Equestrian competed at their annual 2019 IHSA Regional Championship Horse Show, which was held at Other Left Farm in Gaithersburg, Maryland.
Our Equestrian team, led by Sophomore Maya Scheirer (President), Senior Stacey Wells, and Senior Erica Haschert (co-captains), had a very strong showing at the Regional Championship, bringing a total of 8 riders – the most we've had in recent years. This was a huge improvement from even just a year ago, when we had 3 riders competing at this event.
Co-Captain Wells placed 2nd Over Fences and 1st Under Saddle in the Novice division, which qualified her for Zones in both categories, making her the first rider from UMBC to earn the opportunity to compete at Zone Finals. Co-Captain Haschert placed 6th Under Saddle in the Intermediate division, making her the first UMBC rider to qualify for the Open Division, which is considered the highest division. Freshman Mora Gold placed 5th Under Saddle in the Advanced Walk-Trot-Canter division. Riders Miriam Newman-Marshall, Divya Singh, Tamar Kiewe, Lauren Pomroy, and Emily Peck rounded out the day with fantastic rides in their divisions.
The team's final competition was IHSA Zone Finals held at The Barracks Farm in Charlottesville, Virginia, on April 6, 2019, where all of the top qualifiers from North Carolina, Virginia, Delaware, New Jersey, Pennsylvania, and Maryland competed for a chance to go to Nationals. Wells placed third Over Fences, one place below the first or second place needed to qualify for Nationals, and tenth Under Saddle in the Novice Division.
Jill Randles, the club's advisor as well as the Assistant Vice Provost for the Academic Engagement and Transition Programs, has said of the team, "The accomplishments of this year's Equestrian Club have been years in the making. Since the club began, students have been building to this level of competition, and it has been a wonderful experience to serve as the advisor for this accomplished group of students who, every year, commit themselves to the work it takes to improve their skills and their level of performance. We are also very grateful for the partnership we have with Patapsco Horse Center, their wonderful horses, and Sherri Fram Trenary, who has served as the coach, along with Loran Margevich, a UMBC graduate, who took on a role as an assistant coach this year."

UMBC Partners with Salvation Army's Angel Tree Program for Second Consecutive Holiday Season
Baltimore, MD., December 12, 2018 
Led by the athletics, club sports, and recreation programs, UMBC partnered with The Salvation Army's Angel Tree Program to bring holiday joy to Baltimore-area children.
The 2018 Angel Tree program, sponsored locally by WBAL-TV, provides new clothing and toys for children of families in need during the holiday season.
The following groups participated in this year's program: UMBC's 23-team club sports program, UMBC Recreation, Retriever varsity women's lacrosse, and volleyball, Retriever Athletics full-time staff, The Oak View Group (management group of The UMBC Event Center), UMBC Division of Student Affairs and the UMBC President's Office.
The student groups – club sports programs, UMBC Recreation program, and the two varsity teams – each received one "angel", a child ranging in age from 18 months to 11 years old and the programs were responsible for procuring gifts for those children. The teams raised $1,500.00 in toys and clothes for those 27 angels.
In a new endeavor, the other groups listed above adopted 14 families and raised over $4,200.00 in food, toys, and clothes for those families.
In its second year of working with the program, UMBC donated over $5,700.00, more than triple the amount that was raised in 2017. Kristen Alexander, assistant director, club sports, coordinated UMBC's campus efforts.
***
The Salvation Army's Angel Tree program provides new clothing and toys for children of families in need through the support of donors like you. Found in local malls, companies, and churches, Angel Trees are decorated with numbered paper angel tags with the first name, age, and gender of a child in need of gifts. Contributors remove one or more tags from the tree and purchase appropriate gifts for the child or children described on the tags.
Once a child has been registered as an "Angel," The Salvation Army makes a promise to provide Christmas for that child. This promise includes a variety of gifts for each child. In order to accomplish this, The Salvation Army depends on the generosity of individual donors, corporations, and organizations. Last year, hundreds of companies, organizations, and individuals helped fulfill the gift requests of more than 6,000 local children who would otherwise have not had gifts at Christmas."
For additional information, please visit http://salvationarmyaustin.org/programs-that-help/angel-tree/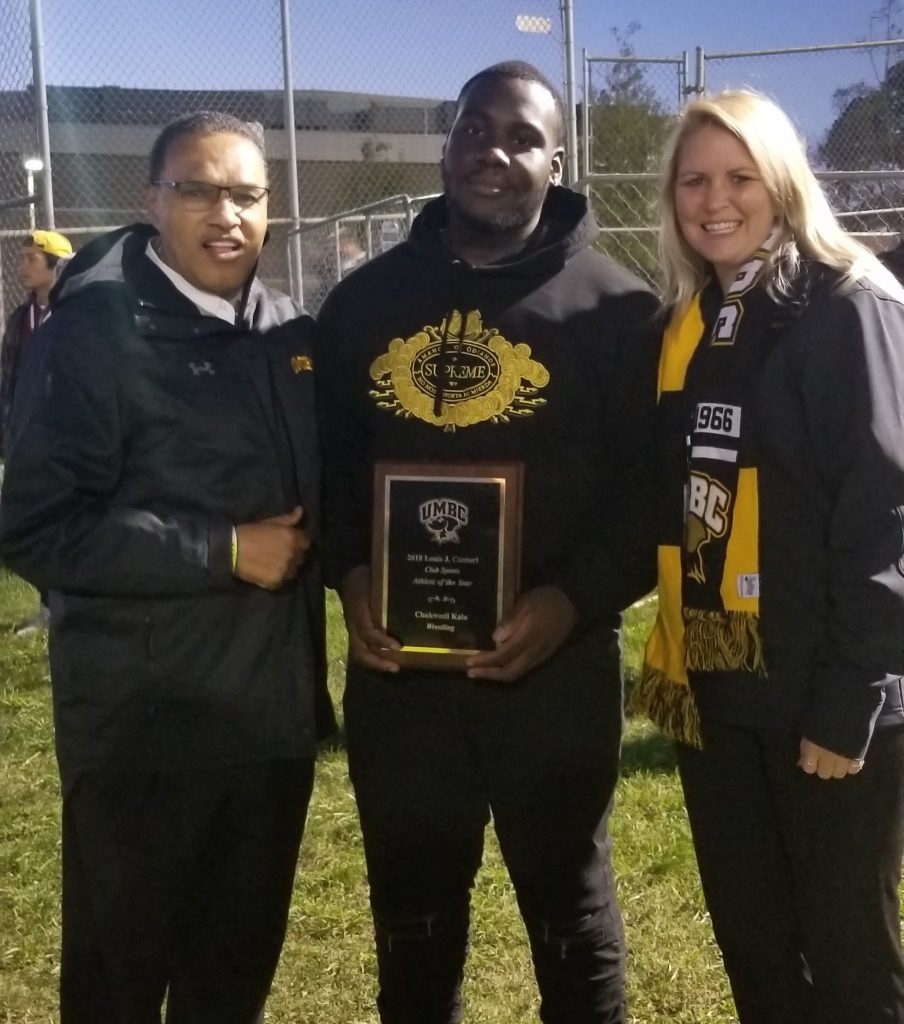 CHUKWUDI "CHUCK" KALU NAMED 2018 LOUIS J. CANTORI CLUB SPORTS ATHLETE OF THE YEAR
Baltimore, Md., October 13th, 2018
For the past 11 years, the Cantori Family has been invited back to campus for the Louis J. Cantori Club Sports Athlete of the Year Award, an award presented annually to a student who participates in club sports and is an outstanding scholar-athlete. This award is presented annually during the Men's Soccer Homecoming game.
Chukwudi "Chuck" Kalu is currently a sophomore majoring in biological sciences here at UMBC. Last year, as a freshman, Chuck had the most impressive season at the heavyweight class in the 15-year history of UMBC Club Wrestling. Chuck set the heavyweight single-season record for wins and winning percentage at 29-11 (0.725), and was the school's first All-American in the heavyweight class, earning 7th place at the 2018 NCWA Nationals in Allen, Texas.
Chuck is also a high achiever in the classroom, majoring in biology at UMBC while earning a 4.0 GPA last year as well as Academic All-American honors. We look forward to seeing Chuck's continued leadership on the mat and in the classroom throughout his Retriever career!

NICOLE COUTURIER RECOGNIZED AS AN ACADEMICALLY TALENTED TRANSFER STUDENT
Baltimore, Md., April 25, 2018
Every year, UMBC recognizes two exceptional "Academically Talented Transfer Students" to speak to prospective transfer students in order to showcase some of our most academically successful, and well-rounded students. This year, UMBC chose Nicole Couturier, a senior, as one of the students to share her personal journey.
Nicole Couturier transferred to UMBC in the 2015-2016 academic school year while pursuing a chemical engineering degree and balancing her involvement in several student life organizations, including the Society of Professional Hispanic Engineers, the Hispanic/Latino Student Union, the Global Brigades, and the Women's Club Volleyball Team. By involving herself in many different activities, Couturier felt that she was better able to balance out her busy schedule and feel a sense of community and belonging, unlike the age-old cliché of choosing either academic success or social success.
Couturier credits some of her success to the MARC U*STAR (Maximizing Access to Research Careers Undergraduate Student Training in Academic Research) program offered at UMBC, noting that "it provided her with the chance to conduct research in a field she is passionate about and has been a great guide towards her future aspirations". She has been able to work in many impressive areas, including the UMBC immunology lab under Dr. Gregory Szeto, with a biomedical engineering team at Cornell, and she is planning to pursue a Ph.D. in biomedical engineering after graduation.
Some other student life activities that Couturier took part in included involvement in a service project trip to Nicaragua with the Global Brigades, and traveling to Nationals for three consecutive years with the Women's Club Volleyball team.
The UMBC Club Sports Program is very proud of Nicole's accomplishments and we look forward to seeing what the future holds for her.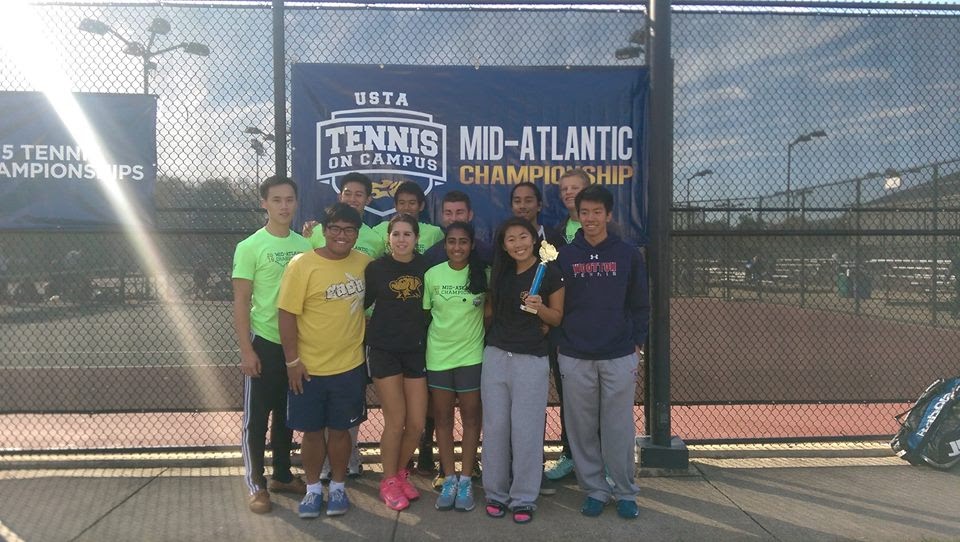 KAITLYN HEO NAMED MID-ATLANTIC LEADER OF THE YEAR
Orlando, Fla., April 12, 2018
Kaitlyn Heo has been identified as the Leader of the Year for the Mid- Atlantic Section of the US Tennis Association for her work with the Tennis On Campus program. Heo, President of the University of Maryland Baltimore County Club Tennis Team led her team to the 2018 USTA Tennis On Campus National Championship which takes place at the USTA National Campus in Orlando, Florida April 12-14, 2018. "Kaitlyn is a great ambassador for the Tennis On Campus program in the Mid-Atlantic Section. She always has a smile on her face, is always encouraging her teammates, and is a wonderful leader both on and off the courts" said Shell Wood, Events Manager of the USTA Mid-
Atlantic Section. Heo has spearheaded important fundraisers for the team to get them to tournaments and events throughout the year. Teammates note her leadership skills, energy, and love of the sport of tennis as to why the club team has been so successful. Heo will be presented with the Mid-Atlantic Tennis On Campus Leader of the Year Award at the Tennis On Campus National Championship by her teammates and Shell Wood of USTA Mid-Atlantic.
The USTA Tennis On Campus program features more than 35,000 college students competing nationwide in intramural and intercollegiate coed club play. Since its inception in 2000, "Tennis on Campus" has grown significantly and today is played on more than 700 college campuses. Developed by the USTA in partnership with NIRSA and World TeamTennis, the "Tennis On Campus" program gives college students the opportunity to build leadership skills, network in a coed sports environment, and compete on a college team without the rigors of playing in a varsity program. With year-round match play and regional and national championship competitions, students maintain active and healthy lifestyles through their college years.